1ST POP-UP STORES FOR ENTREPRENEURS!
Do you ever feel overwhelmed by all of the steps needed to grow your business?
Do you ever wonder what the most important things are to invest in first?
Do you feel like there isNEVERenough time or ways to market your business?
Do you wonder how you can grow your business more quickly by leveraging your time and money more

efficently

?
THENJUMPSTARTSTARTUP WAS CREATED WITH YOU IN MIND!




START OR GROW YOUR BUSINESS FOR FREE.
ALL OF YOUR BUSINESS NEEDS, CURATED IN A STEP BY STEP PROCESS, UNDER ONE ROOF, WITH EXPERT GUIDANCE.
WHEN YOU ENTER THE STORE YOU WILL BE TAKEN ON A GUIDED JOURNEY SPECIFIC TO YOUR BUSINESS TO ACTIVATE THE SERVICES YOU NEED TO GET TO THE NEXT LEVEL.
OUR MISSION
TO ELIMINATE BARRIERS IN STARTING AND SCALING GLOBAL BUSINESSES THROUGH OUR DISRUPTIVE MODEL THAT SIMPLIFIES, CURATES AND EDUCATES ENTREPRENEURS AT EVERY STAGE OF THEIR GROWTH:OFFLINE AND ONLINE
JUMPSTART STARTUP IS THE FIRST EVER POP-UP STORE EXPERIENCE BRAND FOR ENTREPRENEURS, WHERE WE NOT ONLY CURATE ALL OF THE ENTREPRENEURS NEEDS FROM START THROUGH SCALE IN A STEP BY STEP PROCESS, UNDER ONE ROOF, BUT ALSO ACTIVATE AND ACCELERATE THE ENGAGEMENT PROCESS WITH EACH ONE OF OUR BRAND PARTNERS BY A UNIQUE IN-STORE MENTORSHIP SERVICE FOR EVERY PERSON THROUGH THE DOOR--FOR FREE, CONTINUING THE ACCELERATION AND ACTIVATION EXPERIENCE ONLINE.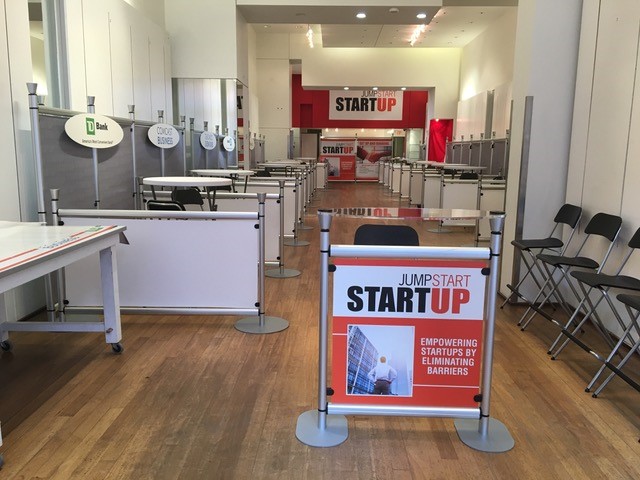 EXPERT GUIDANCE
AT EACH OF OUR POP-UP EXPERIENCES WE PROVIDE PERSONALIZED ACCESS TO ENTREPRENEURIAL EXPERTS FOR ALL OF OUR GUESTS TO CREATE A CONCIERGE EDUCATIONAL JOURNEY TAILORED TO THEIR INDIVIDUAL NEEDS TO MAXIMIZE THE EXPERIENCE FOR EACH CUSTOMER AND BRAND PARTNER.
EVENT SCHEDULE
March 21st
Educational Workshop
The Educational Workshop will be held at the store from 9 am to 4 pm. There will be business experts and authors speaking throughout the day on various topics to help your business grow. Our event sponsors will also be available to share more in depth info about their company, and services for entrepreneurs to grow their business more quickly.Limited seats are available, so please get your tickets early!
Learn how to:
*position your company to gain more national media attention
*get your products on home shopping channels likeQVCandHSN
*use video marketing you building your brand quickly with little cost
*set up your company to save money all year long
*build your e-commerce strategy to scale quickly with technology strategies and shipping
benefits.
*become a masternetworkerto expand your network and increase human capital
*banking tools to support your growth
*why fasterinternetcan change your speed of efficiency
*which brand identity strategies are most important to invest in first.
*and much more!!
March 22nd to March 24th Open to the Public
JumpStart StartUp experience store will be open to the public from 9am to 6pm each day.
THANK YOU TO OUR SPONSORS
Comcast Business UPS
TD Bank City of Philadelphia
My Top Bookkeeper Global Golf Events
Bradley Communications Insperity
Citrin Cooperman Wes Hall
JBC & Associates Legal Shield
BeLiveTV MyNewPhilly
Groover Media INC Magazine
Stanwood Group Benjamin's Desk
Mad Hatter Agency
Upcoming Events